The Enforcement Directorate had interrogated Sushant's sister Mitu Singh earlier. Now, the ED has questioned the main complainant of the case, Sushant Singh Rajput's father K.K Singh. 
His lawyer Vikas Singh confirmed – "Yes, the ED has recorded the statement of the late actor's father."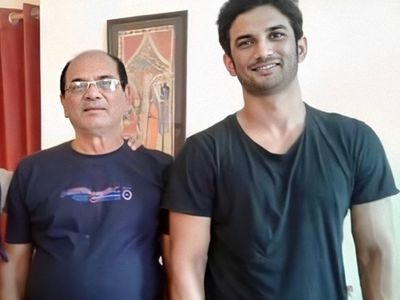 K.K Singh Questioned by ED
As per Times Now report, Sushant's father was questioned about the financial transactions from Sushant's bank account and Sushant's fixed deposits as well.
During interrogation, K.K Singh again emphasized that Rs 15 crore was siphoned off from his son's account by Rhea Chakraborty.
When asked how he came to that conclusion and why he believed that Rhea took the money, Singh allegedly said that his daughter Priyanka is the nominee for Sushant's account and that she contacted the bank after the actor's demise and it was her who got to know "about the transactions."
The report further states that K.K Singh also alleged that Rhea appointed Shruti Modi as the business manager and claimed that Sushant told them that if the need arose, they should contact Shruti.
When asked if the family had concrete proof about the money transaction, it was reported that the fixed deposits that were nearly halved, is now suspected to be the work of the accused and not Sushant.
Mumbai Police Gets Forensic Audit Report of SSR Bank Account
Meanwhile, as per Times Now report, Mumbai Police received the forensic audit report of SSR's bank account, and they claimed that they haven't found any major financial transaction between Sushant and Rhea, except for their vacation trips and other household-related expenses.
This development comes after ED confirmed that Rs 15 crores were missing from SSR's account but they had found no transactions to Rhea's accounts or any direct money trail.
SSR's Former Accountant Rajat Mewati's Claims
Meanwhile, Sushant's former accountant Rajat Mewati has made several shocking revelations to Times Now. He had been questioned by ED earlier.
He claimed that Rhea controlled Sushant's finances, sacked his trustworthy staff and appointed own 'cronies' instead. He also said Rhea appointed Shruti Modi and Siddharth Pithani.
 Mewati even said that he was fired over the phone by Shruti Modi in January and even alleged that she didn't let him have a face to face word with Sushant.
When quizzed about Sushant suffering from depression, Mewati also revealed that he had joined in 2018 and was all praise for the actor's active lifestyle. Rajat added that he was there when Sushant was not well and he was informed that the actor was down with dengue, not depression.
ED to interrogate Varun Mathur
ED will be interrogating Sushant's business partner, Varun Mathur as well. SSR along with Varun Mathur and Saurabh Mishra were directors of a company called Innsaei Ventures Private Ltd since 26 April 2018.
Vikas Singh Points Out Lack of Crucial Detail in Post Mortem Report
SSR's family lawyer also pointed out the lack of crucial detail in Sushant's post mortem report – "The post mortem report that I have seen doesn't mention the time of death which is a crucial detail. Whether he was hanged after being killed or he died by hanging can be cleared with the time of death."