Ae Mere Dil, sung by Abhay Jodhpurkar and composed by Jeet Ganguly was released on the 19th of October and it has already crossed 6 million views on YouTube.
Instant Bollywood spoke with Abhay and got interesting scoops from his experience on the creation of this song.
Ae Mere Dil is a song that expresses pain, love and a broken relationship, one which scars a man for life. After going through the pain of a heartbreak, he finds it difficult to fall in love ever again no matter how much he wants to. The song is soulful and has an unforgettable melody.
The music video stars Shaheer Sheikh and Tejasswi Prakash in the lead roles. Their characters are best friends who end up falling in love but they don't find a way into a relationship after one of them gets their heartbroken.
Team Experience
When asked about his experience working with the team, Abhay said, "It feels like a dream come true. Talking about Jeet dada, I had actually covered one of his songs (Muskurane Ki Wajah Tum Ho) and done a Tamil version, and that is how he heard me and got really fond of me and we kept in touch. Then we met in Mumbai so thanks to Universal Music and VYRL Originals this came about. The song is already doing well, the people are loving it so I'm really glad this happened."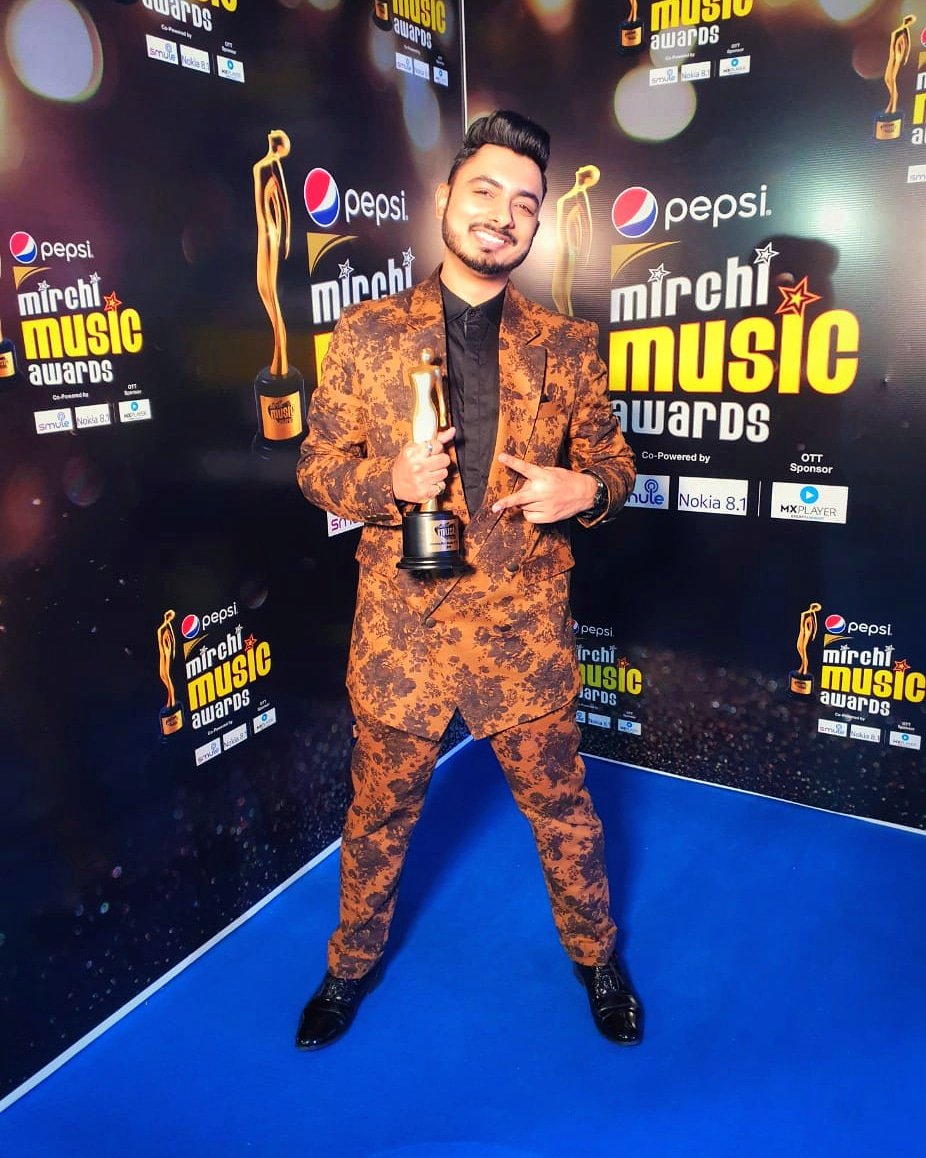 Favourite line from the song
Abhay also talks about his favourite line in the whole song and we think it's adorable. "Yes, I do have a favourite line. Towards the beginning of the song when he is gathering the courage and questioning himself whether he wants to be with her, there is this line, 'Mohabbat ho gayi hai phir se shayad, Main phir se chaand ko paane chala hun, Bahut roya tha jo ik baar kar ke, Wohi ghalti main dohrane chala hoon' which is my favourite."
How do you bring emotion to your songs?
We also asked the versatile singer if he had his own process of bringing out the emotion in the song to which he replied, "Yes, so I always write the song. There is a personal touch in your own handwriting which is why I write it first. So when I try to think of the situation or what the song is, since Jeet dada had already told me it was a sad song and this guy is doubting himself when he's loving again, I try to keep myself in that situation and think about how I would feel in that character. We have all been through heartbreaks so I'm sure everyone can relate to the song. It becomes very personal when I'm doing a song because I give it all of me and it's very honest."
Exploring all genres & Dream collab
Abhay also talks about wanting to explore all genres of music and that Jazz musician Jacob Collier would be his dream collaboration. "I think I want to explore all genres, not anything in particular. I would definitely like to try everything under the sun. Down south I have done other songs like item numbers but I still like exploring."
He also spoke on his pet peeves related to the music industry along with giving us was a small insight on what he loves about the industry.
What do you like/dislike about the music industry?
"So a trend that I hate is how remixes of songs are made because I feel it is disrespectful to the original song. Because the original makers have put in so much hard-work while making a song, it is almost like making a baby, the director, lyricist, composer, singer, they all come together. This is meant only for that particular song. When you try to make a remix of a song, all you do is put in EDM and become lazy and make money out of it. I think it is high time we stop doing that. We are better than that."
"And as for what I like now, it's good that many originals are coming back and that people are making more music. Take VYRL for example, the way they're bringing more music and the way they're doing a fantastic job at promoting the songs, reaching out to people and putting it out there. I am very grateful to them because while we were making our song, they gave us complete creative freedom and we (all the artists) were on the same page with every detail."
What do you like listening to?
"I mostly like listening to R&B and also I like music which has soul, even Bollywood for that matter, I like Hindi playbacks, even the ones that are now coming up, but there are some songs that really stand out for you. I also listen to Malayalam songs and of course Jacob Collier, the orchestra. But right now the top of my playlist is 'Ae Mere Dil'," he concluded.