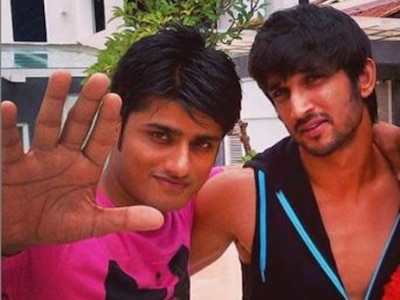 Filmmaker Sandip Ssingh, known for producing movies like Mary Kom, Aligarh, Sarabjit, was also one of the closest friends of Sushant Singh Rajput since his television days! In an interview with Bollywood Hungama, he opened up about the media ruckus surrounding Sushant's death, nepotism, and people's angst and anger being channelized in the wrong manner.
Sandip was hurt and disappointed to see the media's handling of Sushant's demise. He added that they have forgotten to maintain boundaries in the race for TRP and breaking news.
He commented that there is so much pain and anger among the people regarding his demise, that it's coming out in different ways. Sandip was sad to see that people are turning his death into a 'Drama''.
"Uske jaane ka logon ne tamasha bana diya hai. Iss baat ka dukh ho raha hai!"
He urged the media to be careful and responsible since they can heavily influence people's reactions.
Sandip also talked about the insensitive messages and phone calls he received from "Powerful people" after Sushant's funeral asking him why they were not invited to his last rites! He stated that Ekta Kapoor, Shraddha Kapoor and Randeep Hooda came to the funeral and supported him despite the rains.
Urging people to think of Sushant's family and their pain, he said- "Ab Sushant ko chod do akela, uska news mat banao."
Addressing the rumours circulating in media – " He didn't have money, he lost out on 7 films, nepotism, some people are saying he was depressed, some people are talking about his relationship breaking off!"
Sandip elaborated that we should stop reacting to assumptions – "Did Sushant say these were the reasons? We are assuming things and have already started pointing fingers at people. Hum assumptions pe reactions na de."
Adding that there is a time and place for everything, he said that we should reach to the root of the problem and find out the truth first. After finding out what went wrong, then we should start protesting.
He further said that he respects the fans but they should keep their emotions in check and not blame anyone. "Kisiko nuksaan nahi dena chaiye."
Talking about nepotism, he said everyone no matter how big or small struggles to carve their own niche in the industry.
He further added that we should not misunderstand it – as someone trying to pull someone down or boost them up. "Hum usko galat na le, ki woh usko niche kar raha tha, wo usko upar kar raha tha."
Adding that nepotism exists everywhere in the world, in every department – " Everyone favours their own friend or their own brother."
He concluded by saying that since everything is shrouded in suspicion, we should all come out of that mindset and focus on praying for Sushant's soul to find peace.