Kangana Ranaut has been vocal about almost every issue taking place around her or in the country.
The farmers' protest is the latest topic of her Twitter assassination as she had tweeted against many celebs.
However, the social media platform took down tweets by the actress where she took a hit at Indian cricketers and questioned their stance on the ongoing farmers' protest. Several Indian cricketers including Virat Kohli, Ajinkya Rahane asked their fans to 'stay united' and focus on the efforts made by the Central government.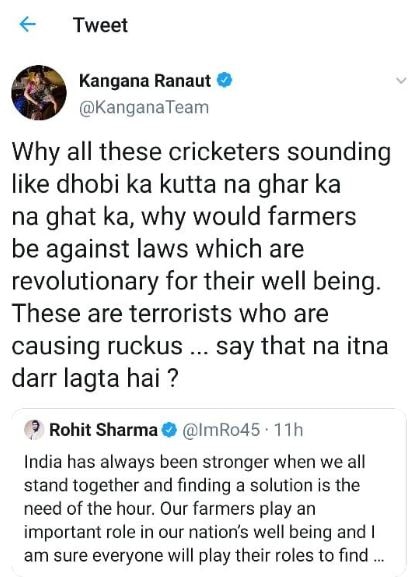 Indian cricketer Rohit Sharma tweeted, "India has always been stronger when we all stand together and finding a solution is the need of the hour. Our farmers play an important role in our nation's well being and I am sure everyone will play their roles to find a solution TOGETHER."
To this, Ranaut has responded, "Why all these cricketers sounding like dhobi ka kutta na ghar ka na ghat ka, why would farmers be against laws which are revolutionary for their well being. These are terrorists who are causing ruckus … say that na itna darr lagta hai?"
Twitter then went on to remove the actress' tweet for the reason that it violated the rules of the platform.
Kangana also tweeted harshly against actress Taapsee Pannu saying, "B grade logon ki B grade thinking, one should stand up for one's faith motherland and family, yehi Karm hai yehi Dharm bhi hai …. free fund ka sirf khane wale mat bano… iss desh ka bojh… that's why I call them B grade … ignore them free loaders."